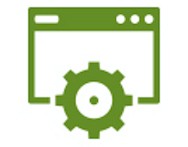 Digital Marketing Tactics That Deliver Results
Digital marketing engages an audience online and has a language all its own, which requires proven expertise to execute successful campaigns.  Our extensive experience with digital strategies brings scale, precision and sophistication to digital marketing strategies to build brand exposure and increase your ROI.
Our digital tactics include digital media, search marketing, email marketing and social media.  Today all digital growth comes from increased mobile usage, which means a digital marketing strategy is essential for your business to remain competitive.
Digital Media
Today the majority of all paid media is placed in the digital space.  This includes standard banner ads, video ads, streaming audio content, podcasts and OTT or connected television.  Benefits of digital media include the ability to fine tune a targeted audience, start quickly, test multiple campaigns simultaneously, and excellent performance reporting which allows us to track response and adjust strategy in real time.
Search Marketing
The two core areas of search marketing are SEO and SEM.  SEO is an approach that uses organic methods to get your website to appear in search results.  SEM is an approach that uses paid methods such as Google or You Tube ads to appear in search results. Strategies can be used for both tactics independently and together to make certain your customers find you while they are searching online for your service.
Email Marketing
Mobile responsive email marketing is a cost-effective tool to engage customers on all devices, drive repeat business and push traffic to your website, as well as easily share your message to social media platforms.  Integrated properly, email marketing can turn one-time customers into happy loyal fans.
Social Media
Social media allows small businesses to talk directly to customers and followers. It lets you build a relationship over time, rather than asking for an immediate sale.  Almost half of digital consumers use social media platforms like Facebook and Instagram to research products or brands.
Behavioral Targeting
Programmatic Targeting
Podcasts Advertising
Streaming Digital Audio/Radio
Connected TV
Mobile App Advertising
Email Marketing
Social Media
Local SEO
Google Ad Campaigns